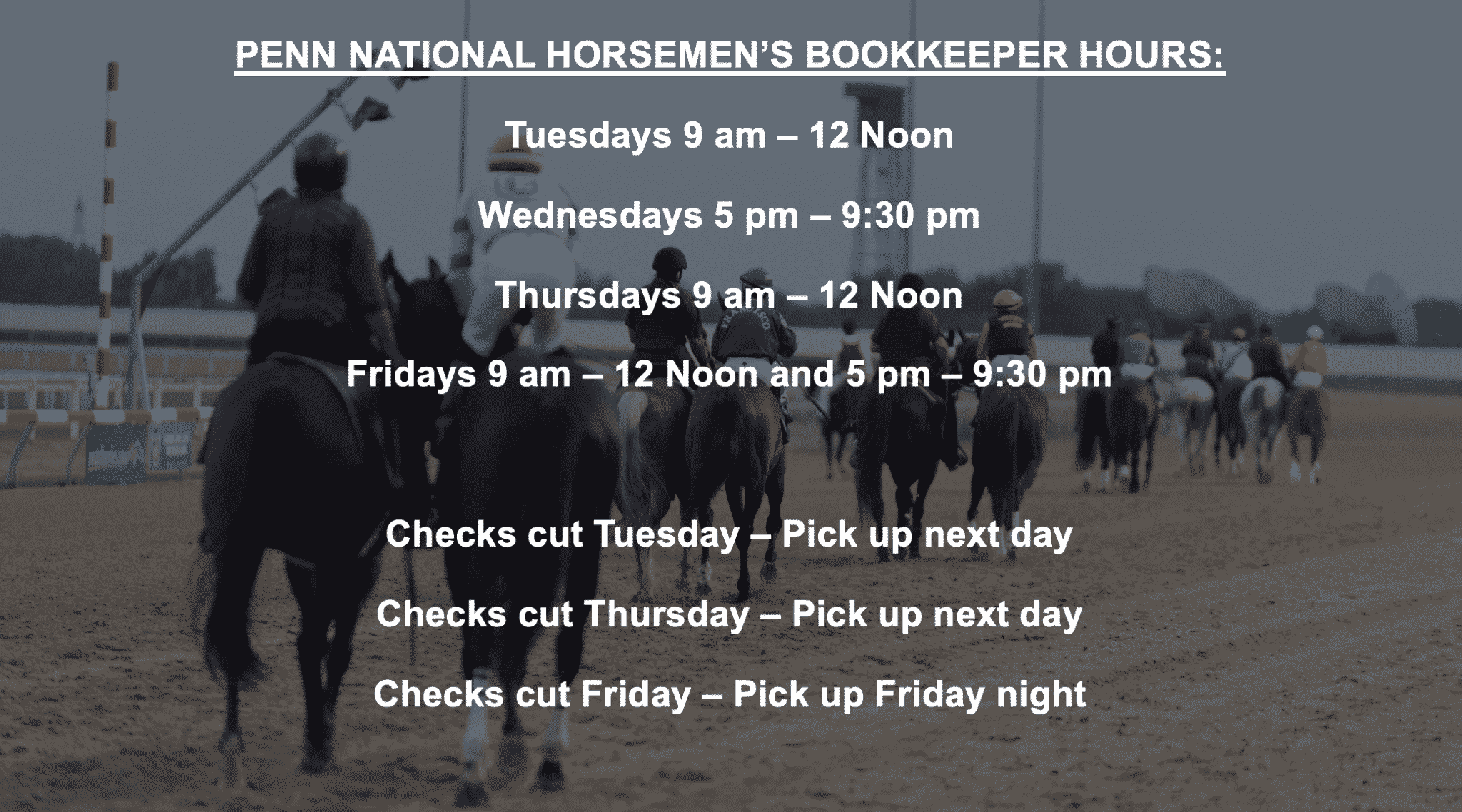 The following protocols have been developed by HCPN and are effective immediately. The protocols apply to all Racing Department Employees, Horsemen and Vendors who enter the grounds of Penn National Race Course. As the Covid-19 Pandemic and our understanding of the virus, its causes, transmission, treatment and prevention are always changing, the protocols listed hereafter are subject to updates, policy changes and deletions with our prior notice.
Proper social distancing practices (maintaining minimum 6 feet distance between individuals) will be required when in all areas of the grounds at HCPN.

Hand washing, using soap and hot water for a minimum of 20 seconds should occur as often as possible. When washing is not practical, hand sanitizers should be utilized. Additional hand sanitizer stations will be placed in common areas around the property

Any individual feeling ill or displaying any of the known symptoms of Covid-19 is advised to stay home. If an individual starts to feel ill, or starts displaying symptoms while on the property, that individual should leave the property and seek immediate medical attention. Any individual who tests positive for COVID 19 must self-quarantine for a minimum of 14 days and follow other guidelines in place by PA Dept of Health and other authorities.

A proper face mask (no bandanas/scarves permitted) that covers the mouth and nose at all times must be worn while on the grounds at HCPN (some exceptions will be permitted later in this document for safety practicality reasons). The use of other Personal Protective Equipment (PPE), such as latex gloves and face shields when appropriate is recommended.

Disinfecting of the public areas in the barns, backstretch, race paddock, racing offices and jockeys' room will take place on a regular basis. With exception of the receiving barn, cleaning of barns and backstretch areas will be the responsibility of the Horsemen.
Stable area access will only be granted to essential licensed personnel who have legitimate job and business functions that require them to be in the stable area and shall be subject to HCPN and PASHRC approval. Guest and Day Passes will NOT be issued for anyone.

All persons entering the stable area may be screened verbally and/or temperature checked to determine their general health condition. Anyone temperature checked who exhibits a temperature greater than100.4 degrees or is experiencing any of the symptoms of Covid-19 will not be permitted in the stable area and will be advised to seek immediate medical attention. Individuals accompanying someone denied access to the grounds of HCPN due to a medical screening shall also not be permitted access.

All horses shipping in to race and go must stable in the receiving barn. Stalls in the receiving barn will be assigned by the stall superintendent to provide adequate social distancing. No horses will be permitted to ship in prior to the day they are entered to race. All horsemen and horses in the receiving barn must vacate the area as soon as practical after their race.

"Work and Go" horses will be permitted to enter the stable area beginning on Tuesday, June 16. Only the trainer of record and the horse's groom may accompany a "Work and Go" horse.  The trainer shall comply with all protocols in this document and shall be responsible for and ensure his/her employees/attendees are abiding by the protocols while on the backstretch. The trainer is responsible for ensuring the stalls they use are left in a clean and orderly manner.
The only persons permitted in the racing office shall be racing officials, HCPN employees and horsemen for the express purpose of picking up or dropping off foal certificates, racing silks or checks from the Horsemen's Bookkeeper. Licensees may also access this area to conduct business with PASHRC and must follow any rules/protocols put in place by the PASHRC. All persons entering the racing office area are reminded that they are required to wear a proper face mask and maintain effective social distancing. If the area becomes too crowded, all persons will be asked to step outside and may enter on a "one out, one in" basis. Persons are also asked not to loiter in this area.

All entries must be made telephonically by calling 1 800 233 8238.

All racing office personnel will observe all social distancing best practices and will work together to maintain a sanitary workspace.

During claiming races, the Claim Box will be located in the proximity of the Jockeys' Room main entrance. At the appointed time the claim box will be closed and checked by a racing official and any claims within will be taken to the racing office to be processed. Any "Shakes" required, and the distribution of delivery orders, will also take place in the proximity of the Jockeys' Room Main Entrance.

The exchange of claimed horses will take place in the usual manner. All persons accompanying claimed horses going to the test barn must abide by all rules and protocols set by the PASHRC for the safe operation of this area.
Until further notice, live racing will return without spectators on the track side apron/Paddock Café area. Patrons will only be permitted on the 3rd floor simulcast area.   During this period the only Racing Officials, valets, veterinarians, outriders, horsemen, grooms and jockeys will be permitted in the paddock and on a designated portion of the track side apron during the running of the race.

Horsemen will be limited to the trainer or his/her assistant trainer or designee and one (1) groom per horse in the race to enter the stable area and when in the paddock area.

All persons entering the paddock, track side apron area and racetrack must wear a proper face mask and maintain social distancing at all times. All horsemen are requested to vacate the area as soon as practical after their race.  
All individuals while in the Jockey's Room shall wear a proper face mask at all times.

All persons entering the jockeys' room will be subject verbal health screening and a temperature check.  

Anyone exhibiting a temperature greater than 100.4 degrees or is experiencing any of the symptoms of Covid-19 will not be permitted in the jockey's room and will be advised to seek immediate medical attention.

Due to space constraints in the jockeys' room and the need to maintain safe social distancing, only riders with at least 50% of their mounts from January 1 through March 14, 2020, will be permitted to ride at HCPN until further notice. Jockeys should confirm in advance with Racing Office of their eligibility to ride before being named on a mount.    

To further promote social distancing in the jockeys' room, jockeys are requested to stay out of the dressing/locker room area until it is time to get ready to ride. Jockeys riding in the first race will be permitted in the dressing/locker room area to get ready. Once they weigh out and leave for the paddock, the jockeys for the second race will be permitted to enter the area. This process will continue each race until the card is completed.

Valets will be required to thoroughly wash their hands before and after handling saddles at the scale. All equipment shall be cleaned thoroughly between races.

Jockeys' room sauna and hot box will not be available until further notice. In an effort to assist the jockeys making weight, three (3) pounds have been added to the assigned weights for each race. No other weight allowances will be offered other than those described in the PA SHRC Rules of Racing.

Jockeys will be required to wear a proper face mask to the paddock which may be removed once they enter the main track for warmups.  

Upon completion of their riding engagements, the jockeys are asked to vacate the jockeys' room area as soon as practical.

All racing employees and jockeys must help maintain the clean and sanitary condition of the jockeys' room.
On Track and Starting Gate Operations
All pony riders and outriders must wear a proper face mask at all times while in the paddock area and on the racetrack.

All pony riders are responsible for keeping their horses and their attendees properly social distanced from the other horses and riders during the post parade, while warming up and returning to the paddock after the race.

The Starter, assistant starters and other on track personnel must wear a proper face mask while on the racetrack and in the confines of the gate crew facilities.

Assistant starters are required to wash and or sanitize their hands immediately prior to and following each race.

The gate crew will sanitize the starting gate between each race.

The gate crew will be responsible for maintaining the starting gate crew facilities in a clean and sanitary manner.   
Presque Isle Downs & Casino
Follow us on social media! You don't want to miss any exciting events!